The HS2 project has celebrated the start of the next phase of tunnelling, launching the first of six tunnel boring machines (TBMs) that will dig over 26 miles of tunnels under the capital.
HS2 Ltd's CEO, Mark Thurston was joined by local teacher, Sushila Hirani, after whom one of the tunnel boring machines at the West London site is named, as it begins on its five mile journey.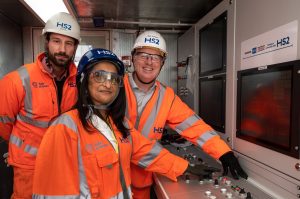 "Sushila" is the fourth of 10 HS2 tunnel boring machines to be launched. The milestone highlights the progress being made on building Britain's new high speed rail network, creating jobs and providing contracts for businesses now.
Later this year a second TBM, named after 18th century astronomer Caroline Herschel, will also be launched from the West London site to build the second of HS2's twin-bore tunnels towards central London.