Representing companies with relevant experience and an interest in high speed rail, the High Speed Rail Group is committed to supporting the successful delivery of a world-class high speed rail network in Britain.
Our members have helped deliver major infrastructure projects in the UK and around the world, ranging from creating entirely new high speed networks through to maintaining and improving the UK's existing rail network. This gives us a unique insight into both the shortcomings in the current network, and the transformative capacity, connectivity and carbon benefits that high speed rail can bring.
Our unique set of expertise in engineering, operations, funding and regulation gives us the experience to ensure the extension of the high speed rail network leaves a lasting legacy for the UK. The company's principal object is:
"to support, promote and champion the development of high-speed rail in Great Britain".
Our programme of activity focuses around the following themes:
Net zero – we will continue to make the case, through the work of our members, that HS2 is key to decarbonising transport and helping Britain achieve its climate targets. HS2 Ltd's aim is to make the project net zero carbon from 2035, with targets of diesel-free construction sites and major reductions in carbon emissions from the steel and concrete used to build the railway. HS2 trains will be powered by zero carbon energy from day one of operation.
Sustainability – the HS2 project is five years into an extensive environment programme to create more than 33 square kilometres of new wildlife habitats along the HS2 route. HS2 os the first major infrastructure project to seek to achieve no net loss for biodiversity and, in line with the Government's 25 Year Environment Plan, is working to leave the natural environment and wildlife habitats in a better state than they were previously. 
Levelling up – this has become an ever more important part of HSRG messaging and we will target pieces of work that explicitly link to this pillar of Government policy. We look at transport in the context of placemaking, and focus on how to ensure that plans are in place to make the most of HS2 investment, particularly in and around stations, which can be transformational for communities.
Jobs & skills – is one of the strongest arguments in favour of HS2, and high speed rail more broadly, that can be backed up with empirical/ data driven evidence. There are now nearly 30,000 jobs supported by the programme and more than 2,760 businesses have delivered work on HS2 so far. Businesses, including our members, across the UK are helping to build HS2, and as construction continues at pace HS2 and its contractors are actively recruiting hundreds of new roles.
The passenger proposition – this is an area of increasing interest, on which HSRG is well positioned to make a contribution particularly now that the rolling stock contract has been awarded. Once the full network is operational HS2 trains are expected to carry over 300,000 passengers a day. 
A longer-term goal of a truly national network – the group will continue to make the case for investment in a wider high speed rail network that reaches the west and southwest, as well as Scotland.
HSRG is better-known and more respected than ever before – and we will seek to maximise our reach and influence going forward.
We continue to support our HSR Apprentice Network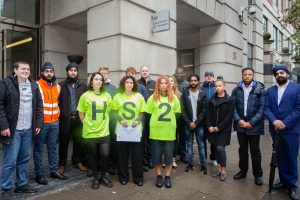 See our membership page for details of how to join the High Speed Rail Group.