Representing companies with relevant experience and an interest in high speed rail, the High Speed Rail Group is committed to supporting the successful delivery of a world-class high speed rail network in Britain. Our members have helped deliver major infrastructure projects in the UK and around the world, ranging from creating entirely new high speed networks through to maintaining and improving the UK's existing rail network. This gives us a unique insight into both the shortcomings in the current network, and the transformative capacity, connectivity and carbon benefits that high speed rail can bring.
Our unique set of expertise in engineering, operations, funding and regulation gives us the experience to ensure the extension of the high speed rail network leaves a lasting legacy for the UK. The company's principal object is:
"to support, promote and champion the development of high-speed rail in Great Britain".
Set out below is a reflection on the progress made in 2020, and our position as we head into 2021:
HS2 has survived the existential threat of the Oakervee Review and Phase 1 has passed the point of no return
Uncertainties remain around the Eastern Leg, and how HS2 interacts with Northern Powerhouse Rail, Midlands Connect and other projects
Entering the delivery phase carries a fresh series of challenges including reputational risks for the project and members
Government agendas around levelling-up, net zero and "union connectivity" will present us with opportunities to contribute
Public finances will come under profound strain as we emerge from the pandemic and seek to return to normality again
New actors are about to appear on the stage, given the set of regional elections across the UK in May 2021
HSRG is better-known and more respected than ever before – and we will seek to maximise our new reach and influence in 2021
You can download a document that sets out in more detail what the group has delivered: HSRG outputs – 2020
A key highlight of 2020 was the launch of the HSR Apprentice Network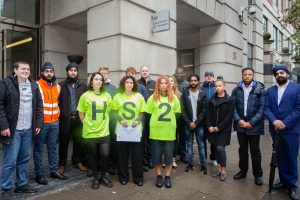 See our membership page for details of how to join the High Speed Rail Group.