Representing companies with relevant experience and an interest in high speed rail, the High Speed Rail Group is committed to supporting the successful delivery of a world-class high speed rail network in Britain.
Our members have helped deliver major infrastructure projects in the UK and around the world, ranging from creating entirely new high speed networks through to maintaining and improving the UK's existing rail network. This gives us a unique insight into both the shortcomings in the current network, and the transformative capacity, connectivity and carbon benefits that high speed rail can bring.
Our unique set of expertise in engineering, operations, funding and regulation gives us the experience to ensure the extension of the high speed rail network leaves a lasting legacy for the UK. The company's principal object is:
"to support, promote and champion the development of high-speed rail in Great Britain".
This year our focus will be on:
Net zero/ sustainability – building on the notable work that HSRG has done in this area to date, with a particular focus carbon reduction via modal shift – an area in which the group are well placed to comment.
Levelling up – this has become an ever more important part of HSRG messaging over 2021 – through 2022 we will target pieces of work that explicitly link to this pillar of Government policy
Jobs & skills – one of the strongest arguments in favour of HS2, and high speed rail more broadly, that can be backed up with empirical/ data driven evidence. As we emerge from COVID-19, the economic argument will continue to be one of the strongest, and as a group we will continue to support HSR apprentices through our network, as well as looking to move to a broader focus on green jobs.
The passenger proposition – this is an area of increasing interest, on which HSRG is well positioned to make a contribution particularly now that the rolling stock contract has been awarded.
A longer-term goal of a truly national network – the group will look to focus on making the case for a wider high speed rail network that reaches the west and southwest, as well as Scotland.
Government agendas around levelling-up, net zero and "union connectivity" will present us with opportunities to contribute. 
HSRG is better-known and more respected than ever before – and we will seek to maximise our new reach and influence in 2022.
We continue to support our HSR Apprentice Network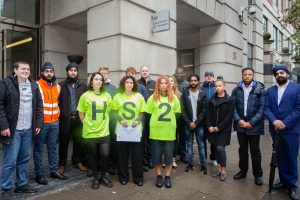 See our membership page for details of how to join the High Speed Rail Group.