HS2 is assembling the UK's first major railway viaduct to be entirely manufactured off-site. Unlike more traditional viaduct designs, and as a major step forward for viaduct design, every major element of the 880m long Thame Valley Viaduct is being manufactured in a factory before being slotted together on site, cutting its carbon footprint by around a third.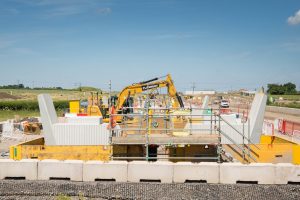 Crossing the flood plain of the River Thame, just outside Aylesbury, the viaduct will carry HS2 trains at speeds of up to 360km/h between London, Birmingham and the North. The 68 giant concrete piers – each weighing 42 tonnes – are being cast at PACADAR UK's factory on the Isle of Grain, in Kent, before being transported to site by road. The first 14 piers were lifted into position on top of their foundations over the last four weeks.
The viaduct was designed by HS2 Ltd's main works contractor, EKFB – a team made up of Eiffage, Kier, Ferrovial Construction and BAM Nuttall – working with specialist on-site construction partner, FC Civils Solutions.
Traditionally, viaduct beams are secured together above each of the piers with a concrete diaphragm which is cast in situ. The larger pre-cast beams that will be used at Thame Valley can be secured directly to one another, removing the need for the diaphragm – and allowing every major element of the structure to be pre-fabricated.
As well as cutting embedded carbon in terms of materials, the pre-fabricated approach requires less lorries to deliver material to site, simplifies construction, cuts waste, reduces disruption for the community during construction – and improves safety by reducing the need for people to work at height.
Set low into the landscape with a simple and consistent profile, the underside of the viaduct will be just 3m above the ground, with thirty-six even spans crossing the river and surrounding wetlands.
Applying lessons from the construction of recent high-speed rail projects in Spain, the design team opted for a simple structural solution with two 25m long hollow beams per span, which cuts the amount of carbon-intensive concrete and steel, while simplifying work on site.