HS2's civils partner, Balfour Beatty VINCI (BBV), has opened the doors to its giant construction compound in Kingsbury, Warwickshire and revealed the scale of works underway ready to build one of the most complex sections of the HS2 route – the Delta Junction. The 550,000 square metre site (equivalent to 74 football pitches) will become the workplace for around 1,000 people tasked with building the high-speed line on a network of viaducts crossing motorways, roads and footpaths.
This summer, work will begin on the production of almost 3,000 precision designed concrete segments, ready to create the network of nine viaducts that will form part of the Delta Junction, a triangular section of line where the new railway curves west towards Birmingham and runs north towards Crewe.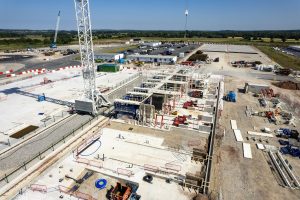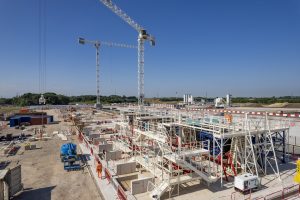 In total, 2,742 segments will be produced from materials mixed at the on-site batching plant and at peak production, the pre-cast yard is expected to turn out up to eight segments per day, weighing between 60 and 80 tonnes. The segments are built in two different sizes, with the larger design (2.6m length x 10.5m width x 3.5m height) used for the double track sections of the railway.
Work is currently underway to assemble a 54 metre-long gantry crane that will lift each segment during the manufacturing cycle, ahead of their onward transport to nearby Water Orton and Coleshill ready for on-site assembly. The short distance from the Kingsbury site and onsite construction method will help to reduce the number of vehicle movements in line with HS2's environmental commitments.
Each component part of the build requires a highly skilled workforce and BBV opted to locate its latest Skills Academy at the site to ensure its workforce is expertly trained for the programme of work ahead.
The Kingsbury Skills Academy opened its doors in February 2022 and over 9,000 hours of training and over 1,000 courses have already been delivered from its bespoke indoor and outdoor facilities, which include an off-road 4×4 driver safety range.
This is in addition to BBV's first Academy, based in Bordesley Green, Birmingham, which focuses on upskilling people who are out of work or looking for a new career and getting them 'job-ready' in just 4-6 weeks. From there, they transition to the Kingsbury Academy which focuses on delivering job-specific training, covering everything from working at height and in confined spaces to first aid and mental health awareness.
Graduates and apprentices have a key role to play in supporting construction of the Delta Junction and the Kingsbury site is already home to 11 people, under the age of 25, who are beginning their career journey with BBV on HS2.