Railway Industry Association (RIA) members Fugro are an international site characterisation specialist – one of nine contractors selected for the Phase One ground investigation framework. Site investigations (SI) for HS2 phase one are being undertaken to demanding standards. They are providing vital ground engineering and design data for the construction of bridges, tunnels, cuttings and four new stations, as well as 140 linear miles of track carrying trains at up to 250 mph.
Fugro was one of nine contractors selected for the Phase One ground investigation framework announced in January 2015. As the UK's biggest geotechnical services provider, Fugro has been able to quickly mobilise experienced and skilled personnel, together with a versatile range of equipment, to undertake the challenging site investigations. This has entailed not only intensive programmes of geotechnical and geophysical site work, but also high volumes of sample analysis, testing and data processing to help keep the client on track with design and construction planning.
Fugro HS2 contracts so far
Under the Ruislip North West contract, awarded November 2016, Fugro has undertaken a wide range of SI activities along a 2.4 km section north of London. These have involved rotary and cable percussion boreholes to depths of up to 40 metres, wireline logging, seismic cone penetration tests, trial pits, a radiological survey, and laboratory testing.
Fugro is also completing contracts for the Central London section of the route which include an extensive buried utilities survey as well as geotechnical investigations: rotary core and cable percussion boring, downhole wireline logging, cone penetration testing (CPT), and in situ and laboratory testing. Pressuremeter testing has also been carried out on a number of boreholes.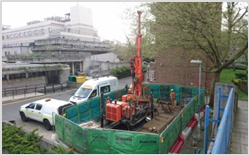 The intensive schedule of work has been all the more challenging in London's congested urban environment. Clinical planning and efficient deployment of resources has been crucial in overcoming constraints on access and limited periods of access.
Further north, Fugro's contract at Great Ufton, completed in October 2016, involved a similarly comprehensive range of ground investigation activities.
Extensive capabilities
HS2 is demonstrating Fugro's extensive capabilities to provide a full range of geotechnical and geophysical investigation services to the scale, quality and programming demands of one of Europe's largest rail projects. This includes meeting high levels of technical competence, quality management, and operational accreditation, in addition to onerous insurance, liability and associated contractual requirements.
Investment has been made in new equipment, while some tasks are relying on specialised technology.  An example is t
he testing of soil samples at very low strain levels using highly specialist equipment at Fugro's state-of-the-art laboratory in Wallingford, one of just a handful of UK laboratories with this facility.
At a time of high demand for geotechnical services but a shortage of skills in the UK, the depth and integration of Fugro's global resources and logistical mobility have come into their own for a national infrastructure project as large and critical as HS2.
Ian Judge, Framework Director for Fugro's HS2 work, said:
"The logistical and technical challenges presented by the scale of the project have stretched the capacity of the UK industry. Fugro's ability to supplement its significant UK resources with selective use of technical expertise and equipment from elsewhere in Europe has enabled us to meet the high expectations of HS2, providing high quality data to further the design of the project as it moves towards the construction stage."