We write to you as members of High Speed Rail Industry Leaders and the wider rail supply chain to offer you our support in your review of HS2, and make clear that we believe the scheme offers value fr money and must be delivered in full. Without completing HS2, the north-south divide in Britain will remain and worsen.
We represent companies with relevant experience in high speed rail and we are committed to supporting the successful delivery of a world-class high speed rail network in Britain. Our members have helped deliver major infrastructure projects in the UK and around the world, which gives us a unique insight into both the shortcomings of the current network, and the transformative capacity and connectivity benefits that high speed rail can bring.
We have spent the last six years making this case. This includes organising high-profile events with Secretaries of State, Ministers and MPs as well as regional and local political leaders such as the Mayor of the West Midlands, Andy Street, and Mayor of Greater Manchester, Andy Burnham. In June we held our influential annual conference with a powerful range of speakers, including from Midlands Connect, Northern Powerhouse Rail, Northern Powerhouse Partnership and the Chair of HS2, Allan Cook.
To inform your review, we refer you to our most recent report 'Why Britain needs HS2.' The report shows that completing HS2 is fundamental for addressing the UK's north-south divide, and tackling the significant disparities in wealth and opportunity between the UK's cities and regions as well as delivering improved rail services to far more towns and cities than is generally realised. The report sets out a number of key findings that all point towards one inescapable conclusion: that HS2 must be delivered in full. Without completing HS2, the north-south divide will remain and worsen.
In particular, we wanted to draw your attention to the undeniable socio-economic benefits that HS2 will bring to the UK's regions.
Regional Productivity and Investment
Addressing economic imbalance – the better connectivity HS2 brings improves regional productivity even more than it does in London (see map below)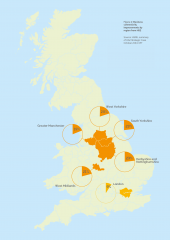 Increased private investment in regional economies – leading to a mini-boom and the strengthening of Birmingham already, with plans set out for the wider West Midlands economy, the East Midlands, the North of England, North Wales and Scotland
Dozens more towns to benefit than people realise (see map below)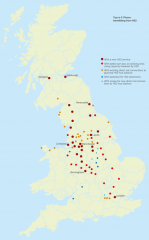 Jobs and careers
 9,000 existing jobs would be lost if the project does not go ahead, along with the jobs that would be created during the lifetime of the scheme, causing a significant economic shock to communites across Britain
More productive jobs will be created in the Midlands and the North of England by HS2 than in London
See below just one of HSRIL members' sub-contractor breakdown, spread across the country and showing the importance of HS2 to SME suppliers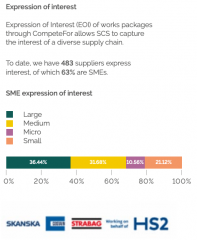 Tackling the capacity crunch
 North–South railways have to accommodate expanding commuter volumes, and growing volumes of freight on rail, as well as connecting our major cities
HS2 is essential to net zero emissions and tackling the climate emergency
If we are to deliver net zero emissions, HS2 is an essential building block, creating the opportunity to reduce short-haul domestic aviation, reduce lorry numbers on the main road network, and create a major capacity expansion of the nation's electrified rail network
Britain today is divided. HS2 unblocks the arteries, connecting London with Glasgow/Edinburgh and all key places in between.
It must also be borne in mind how the political uncertainty surrounding HS2 adds to the costs of bidding, driving up costs in the UK infrastructure market. By now, HSRIL members have spent well over £100m bidding for HS2 contracts. If HS2 is cancelled now, future construction projects across the piece will unfortunately attract an added risk premium. UK construction will cost more.
HS2 is ready to build. It is attracting private sector investment into our great regional cities already. At a time when the country is looking to demonstrate its post-Brexit credentials, what signal would it send if we cancelled our highest profile infrastructure project and weakened our commitment to share prosperity around the country? Similarly, how would it look to our potential global trading partners, many of whom have their own high speed rail ambitions, to put into question the project's future? At both a national and international level, the importance of HS2's completion in full is indisputable.
We believe that the HS2 scheme offers significant value for money to Britain, but we also recognise that it is essential that this is clearly demonstrable. The HSRIL board would be very keen to meet with you or your advisory panel at any point over the coming weeks to help demonstrate that HS2 is a value for money project.  Similarly, HSRIL members and the wider rail supply chain would be pleased to host you for on-site visits throughout the course of the Review.
Yours sincerely
High Speed Rail Industry Leaders
Darren Caplan, CEO, Railway Industry Association
James Richardson, MD, Skanska
Mark Naysmith, CEO, WSP
Nick Crossfield, MD, Alstom UK & Ireland
Noel Dolphin, MD, Furrer + Frey GB
Philip Hoare, President, Atkins
Vincent Avrillon, Deputy CEO, Bouygues TP
William Wilson, CEO, Siemens Mobility
David Lowery, Director, Eiffage Kier Limited
Donald Morrison, SVP and GM, Jacobs
David Barwell, CEO UK, AECOM
Karen Boswell, OBE, Hitcachi
Phil Hufton, President UK, Bombardier
Antonius Deelen, CMO, British Steel
Simon Babes, MD, Movement Strategies and Railway Industry Association SME Group
Ian Funnell, CEO, ABB Ltd
Steve Higham, MD, Engineering, SYSTRA Ltd
Kathryn Nichols, CEO, The Nichols Group
Noel Travers, MD, Unipart Rail and Unipart Manufacturing Group
Mark Bullock, CEO, Balfour Beatty Rail and Utilities
Mark Cowlard, UK CEO, Arcadis
Mathew Riley, Managing Director UK, Ramboll
Mike Haigh, Executive Chair, Mott MacDonald Ltd.