We welcome the announcement of the HS2 rolling stock contract to the Hitachi/Alstom JV as a huge step forward for the project. The contract will see the construction of the first 54 HS2 trains at factories in County Durham, Derby and Crewe, creating 2,500 skilled jobs.
The HS2 trains will offer passengers a world class on-board experience and make a huge difference to how people think about rail travel in this country. Because to get to net zero, we need to get more people travelling by train, and outstanding rolling stock has a hugely important part to play in that.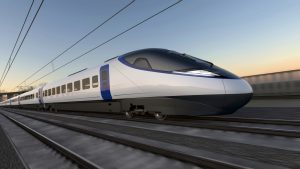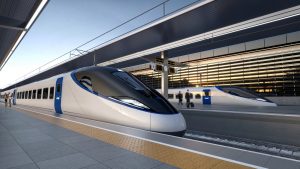 The construction of the first phase of HS2 is now 20% complete and some 20,000 people are already working on the scheme. The industry and HS2 Ltd are making great progress in delivering this project, which will transform Britain.
Capable of speeds of up to 225mph (360km/h), the fully electric trains will also run on the existing network to places such as Glasgow, Liverpool, Manchester and the North West. Building on the latest technology from the Japanese Shinkansen 'bullet train' and European high-speed network, they will be some of the fastest, quietest and most energy efficient high-speed trains operating anywhere in the world.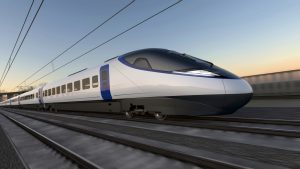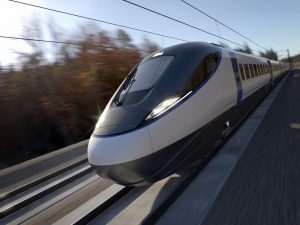 The train will also benefit from Hitachi Rail's pioneering low noise pantograph – the arm which collects power from the overhead wires. Developed in Japan, this technology will make it quieter that comparable high speed train and use regenerative braking to boost energy efficiency. It will also be 15% lighter and offer 30% more seats than comparable high-speed trains in Europe – such as the Italian ETR1000 built by a joint venture between Hitachi Rail and Alstom.
The first train is expected to roll off the production line around 2027. Following a rigorous process of testing and commissioning, the first passengers are expected to be carried between 2029 and 2033.