Balfour Beatty VINCI Joint Venture (BBV) is currently trialling the world's first all-electric, high-capacity drilling rig on a construction site in Warwickshire, as the Joint Venture steps up its plans to meet HS2 Ltd's ambition for diesel-free construction sites.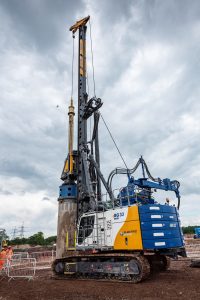 The 100 tonne BAUER eBG33 drilling rig creates an overall reduction of 1292kg CO2 per day compared to a traditionally powered rig and also reduces noise by 50%. In terms of performance, the rig is able to carry out exactly the same tasks as a traditional rig.
This innovative new machine is being used by BBV's deep foundations contractor SB3 (a Joint Venture between Bachy Soletanche & Balfour Beatty Ground Engineering), and works alongside a diesel-powered rig to construct large diameter piles, with the aim of demonstrating that heavy, electric-powered construction plant can perform the same tasks as traditional machines.