The first 480m stretch of the Colne Valley Viaduct has been built over the last seven months using an enormous 700 tonne 'bridge-building machine'. The viaduct will eventually stretch for more than two miles (3.4km) across a series of lakes and waterways outside Hillingdon.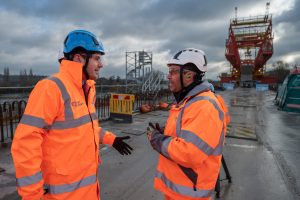 Known as a 'launching girder', the 160m long bridge-building machine is the only one of its kind operating in the UK and is used to lift the giant concrete deck segments that form the viaduct's arches into position. Once each section is complete, the machine inches itself forward to build the next stage.
The first 141 – out of a thousand – deck segments are now in position, with each one weighing up to 140 tonnes. To allow for the gentle curves of the viaduct as it crosses the valley, all the segments are slightly different shapes and made on site at a purpose-built temporary factory close to the north abutment.