HS2 Ltd and its contractors have donated 300 native tree saplings and sustainable tree guards to Corley Academy, a secondary school near Coventry for students with complex social and communication difficulties.
The project contributes to the Queen's Green Canopy, the tree planting initiative created to mark the late Queen's Platinum Jubilee in 2022, which invites people from across the United Kingdom to "Plant a Tree for the Jubilee".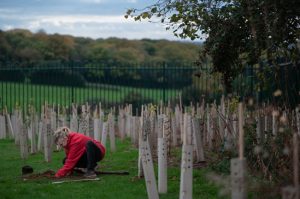 Over 20 volunteers from HS2 Ltd and BBV spent a day at the school, planting the trees donated by HS2, from stock grown by Crowders Nursery in Lincoln, the company contracted to grow the 7 million trees required for Phase One of HS2.
Environment and landscape teams from Balfour Beatty VINCI (BBV) designed the tree planting areas, including 28 metres of native hedgerow planting around the school's 'willow garden', and 300 square metres of native woodland planting to extend an existing area of trees along the boundary of the school.
Amy Middlemist, Landscape, Art & Culture Lead at BBV said:
"Our team at Balfour Beatty VINCI have thoroughly enjoyed taking time out of their busy schedules to contribute their ideas, time and effort to this fantastic project, forming part of our late Queen's Green Canopy initiative. Providing Corley Academy with new areas of woodland is a great example of how we work alongside local schools to deliver environmental projects, which also provide excellent educational opportunities for pupils and encourage their interest in the natural environment."