Our recent panel event – can transport investment deliver the levelling up agenda – explored how increased transport investment in all parts of the country can deliver the Government's flagship policy. Hosted by the University of Leeds, and Chaired by RIA North's Richard Carr, the panel featured contributions from:
Henri Murison, Chief Executive, Northern Powerhouse Partnership
Henry Kelly, Lead Economist, Midlands Connect
Jonathan Sharrock, Account Director HS2, Arcadis
Frank McKenna, Chief Executive, Downtown in Business
Josie Drath, Associate Director, Arup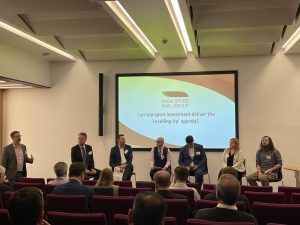 The panel considered transport in the context of placemaking, and how ensuring plans are in place to make the most of HS2 investment, particularly in and around stations, can be transformational for communities. The panel was united in a belief that, done right, regeneration projects that include good transport links can act as significant economic interventions, as well as helping to create happier and healthier places to live and work.
Devolution, it was argued, also has an essential role to play in ensuring that local stakeholders feel they have a interest in major projects. There was a discussion of the merits and dis-merits of the Green Book Appraisal system, and how to influence this to ensure that infrastructure investment in more deprived areas makes it through initial stages of analysis – where, despite the transformational impact transport investment may have, existing levels of poor productivity mean areas score poorly.