We spoke to Samuel McCabe, a Mechanical Design and Engineering Apprentice working in Wolverhampton for Alstom: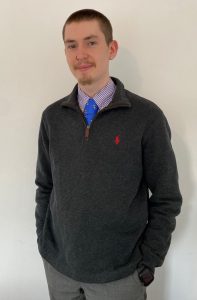 Can you describe your role in a few words?
I carry out design for refurbishment and modernisation of trams and trains.
What were you doing prior to this?
Prior to my apprenticeship I attended a boarding school in the West Midlands, where I involved myself in engineering projects. After I completed my GCSE's I started my apprenticeship with Alstom – initially working on the maintenance of the class 390 Pendolino trains.
What was your perception of the sector before you started your apprenticeship?
I had a misconception that the only way into engineering was with a degree, and that I needed to know people already in the industry to get in. I also thought that it was quite a closed industry but my apprenticeship has taught me that – for the area that I work in – I am actually better gaining experience on the jobs while I learn and that the best way to gain the required knowledge is by physically doing it.
What interested you in joining Alstom?
I initially joined Alstom as a Rail Engineering Technician Apprentice, which entailed working on the maintenance and installation of the modernisation of the Class 390 Pendolinos. To me this seemed like the greatest way to get my foot in the door of the rail industry.
As a young lad I have always been fascinated by 'how things work' and a burning desire to question why things work. In my experience, school didn't teach me what I wanted to know, they just taught me how to pass an exam. I decided from the age of 15 that design was my biggest interest and hoped to pursue it as a career. However, I was daunted by the thought of spending another 6 years in a classroom. I have also been passionate about rail from a young age, so Alstom was a household name to me, and when I saw the apprenticeship as a technician available, it felt like the stars aligned, as initially an apprenticeship hadn't even crossed my mind. I figured an apprenticeship would take me in the direction that I wanted to go in career wise. It worked out well as I manged to get a secondment into the design office, working with some of the people who had initially worked on the class 390 when they were first built back in the early 2000's. I settled in to the secondment so well that I stayed on, and been lucky enough to stay and work on some incredible projects.
What are the top 3 things you've learnt so far in your job?
I have learnt to push myself out of my comfort zone considerably – as someone who used to often struggle with communication with others, it has helped me conquer that boundary and work well in a team.
Everyone is a lot more understanding than you may expect, and especially in a small depot like mine, there is an element of family, and everyone will look out for you and make sure you're getting on ok.
Do as much as I can for someone where available. If someone asks me for help, I take it as a huge compliment that they require my skills, and I will do as much as I can for them, because people remember that, and in the areas where they are much more skilled, I can come to them and have a healthy relationship through helping one another.
What is the most exciting part of your job?
The most exciting part has to be the opportunities I have had to travel and experience other sides of the business. I have been across the whole of the UK, seeing how other depots and departments work, as well as been lucky enough to work in Paris, Denmark and Belgium.
Do you think you will have the opportunity to work on HS2 in the future?
I hope so. Even if not directly, I know that projects like HS2 will have a big positive impact on the industry as a whole.
What would you like to do after completing your apprenticeship?
I completed my Level 3 – Rail engineering technician course early this year, and I am now set to start my Level 4 in Manufacturing which is slightly more catered to my current work environment in Design and Engineering.
Once I have completed my Level 4, I would like to sustain this momentum of learning while on the job and begin a level 6 in Mechanical Engineering. I can see myself being with Alstom for a long time, as there is so much potential to grow, and new opportunities arise daily within the company. I am pushed to excel in all areas and given chances and opportunities to better myself and further my knowledge.