It's National Apprenticeship Week – and the theme for 2021 is "Build the Future" – which resonates well with the high speed rail family.
It is estimated that HS2 will create around 25,000 jobs during construction as well as 2,000 apprenticeships, as well as supporting growth in the wider economy, worth an additional 100,000 jobs.
We are seeing the number of apprenticeships available in digital, data and technology
roles increase and build in new and innovative areas. Many of these apprentices are part of our HSR Apprentice Network – and we are showcasing their stories over the course of the week.
Here is Andrew's story:
Andrew Lohmann joined Keltbray in June 2015 after deciding University wasn't for him. He started out with Keltbray as a labourer on site at Battersea power station before progressing onto a demolition apprenticeship at London Bridge station. After completing his demolition apprenticeship on a HS2 project, Andrew progressed well on site and showed that he had the aptitude to take on responsibility and manage activities within the works.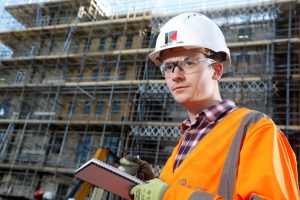 Andrew was interviewed and selected to commence training as an Assistant Project Manager which led to him continuing to work on HS2 projects with Keltbray. This varied role across an ambitious demolition programme meant Andrew had to work his studies around his day job and he has successfully finished a HNC and is now working towards a BEng in Civil engineering part time through a Degree Apprenticeship route supported by Keltbray and delivered by LSBU. So Andrew has completed one apprenticeship and started another as a direct result of his involvement with Keltbray's projects on HS2 from the DB Cargo Shed to the Temperance Hospital and Thistle Hotel.
"I've worked with and met some incredible people at Keltbray throughout my time here, and I feel lucky to work for a company that is so supportive of professional growth for people working at every level."