We spoke to Elise Crawford, trainee quantity surveyor with AECOM
Can you describe your role in a few words?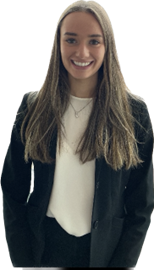 My role involves being able to really understand a client's needs to help effectively cost a project.
What were you doing prior to your Apprenticeship?
I was doing A- levels in maths, physics and economics
What was your perception of the sector before you started your apprenticeship?
I thought it was a sector that was always developing and changing, which really appealed to me. I definitely presumed buildings were constructed much more quickly than they actually are and that there were much fewer people involved than there are.
What interested you in joining AECOM?
I thought AECOM would be a great company as it is multinational and delivers such a wide range of different infrastructure so I thought I would get a lot of opportunities to work on different projects.
What are the key things you've learnt so far in your job?
I think for me one of the main things I've learnt is that you should always double-check everything. Also, things take time, so be patient, and probably the most important – constantly speak to your client!
What is the most exciting part of your role?
I really enjoy getting to visit the projects that I am working on.
What would you like to do after completing your apprenticeship?
I would love to work overseas at some point.