We spoke to Daniel Herbert, a Quality Apprentice working for Balfour Beatty Vinci
Can you describe your role in a few words?
My role involves ensuring quality assurance through numerous practices such as product inspections, reporting, auditing and document control and handover.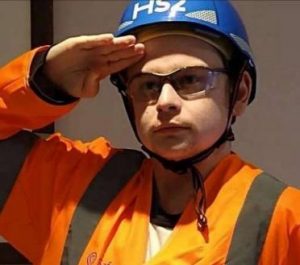 What were you doing prior to your Apprenticeship?
I was studying Geography and Natural Hazards at Coventry University where I graduated with a Bachelor of Science Degree.
What was your perception of the sector before you started your apprenticeship?
I always knew that the construction industry is a lot more than just the building of a product itself, as a project must go through many different stages through its lifecycle. But I also felt that being part of such a large team and family and being able to see a project through from start to finish must be an incredibly fulfilling experience.
What interested you in joining Balfour Beatty Vinci?
Balfour Beatty is a leading construction company in the UK with many big achievements through their time in the industry. I wanted to be able to contribute towards their next project to be able to say 'I helped build that' as their projects will remain long after we have gone and will be part of both my and the company's legacy.
What are the key things you've learnt so far in your job?
I've learnt a lot about the detailed step by step process that we must follow to ensure we produce the best construction project that we are able to. I've also been surprised at how diverse the company's employees are, as this has meant that I have been able to meet and work with so many different types of people with different backgrounds which makes the project an even more memorable experience to be a part of. A key element of what I do is about how we ensure quality on the project and how important it is that we deliver 'Right First Time' which is the motto of the company.
What is the most exciting part of your job?
Having the chance to go out on site, to physically see the stages of construction take place and to be part of the process that will create a lasting project for centuries into the future.
What would you like to do after completing your apprenticeship?
I have worked on the HS2 project through my apprenticeship as I work for BBV in partnership with HS2. It has been an amazing experience so far and I am currently based at the Long Itchington Wood Sublot helping to create a tunnel for the train to pass through, which is fantastic to see. The step-by-step process of how we go about creating a tunnel fascinates me. If there is an opportunity to do so, I would like to be a qualified member of the quality team to continue to assist the production of HS2. I have been really interested by what I have seen and learnt so far and I want to be able to see this project through to the end!