In June 2021 permanent work began on HS2's super hub station, Old Oak Common, in West London. Since then, significant progress has been made, with a total workforce of 1,900 people now supporting the delivery of the HS2 'super-hub' station, with the site itself welcoming around 1,000 workers each day.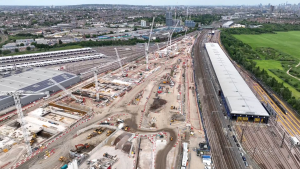 HS2's Station Construction Partner, Balfour Beatty VINCI SYSTRA Joint Venture (BBVS JV) has started work on the installation of the 1.2 mile diaphragm wall for the underground box which will contain the six new high-speed platforms. The wall was completed back in March, with the team having installed 275 diaphragm wall panels and 161 bearing piles, the largest of these being 2.2m in diameter and 57m in length. The first base slab concrete pour in the western end of the station box has also taken place.
The excavation of the box is also well underway with over 465,000m3 of London clay already removed out of a total of 930,000m3 from across the site. The excavated clay from the site is now being taken away via part of a 1.7 mile conveyor network, removing thousands of lorry movements from local roads.
The team are not just focused on what they are building but also how they are building. HS2 is committed to eliminating the use of diesel on all its construction sites by 2029 and significant progress has been made towards this at Old Oak Common. The site has set a goal to achieve diesel-free by the end of 2024, with a collaborative team working on plans. Amongst a number of measures being taken at the site is a transition to electric equipment including the use of two fully electric crawler cranes, two of only five used across the world. There is also an abundance of green technology being used, including hybrid excavators and diesel equipment retrofitted to use more sustainable fuels.