Two brand-new images have been released showing the concept design for the exterior and interior of the new HS2 station at London Euston.  The designs, updated from 2015, are based on a less complex, more efficient, ten-platform station which can now be built in a single stage. They have been drawn up by a design consortium made up of Arup, WSP and Grimshaw Architects, working into HS2's Station Construction Partner, Mace Dragados JV (MDJV).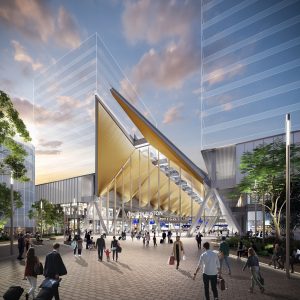 Once works planned at Euston are complete it will not just be a major transport hub, it will be a destination, and one where the local community are an integral part of the development. Work planned will enable the creation of new homes (including provision for affordable and social housing), businesses and shops plus improved public realm and open space which will support communities living around and visiting Euston. 
The station will feature a bold geometric roof design to allow natural light to flood into the station concourse. The roof is an identifying feature of the station and emphasises it's north-south alignment, and its role as a regional gateway. Elements of the innovative roof can be prefabricated off site, and installed using modular construction techniques, reducing costs, carbon emissions and local disruption.
The HS2 station will be set across three levels, with ten 450m long subsurface platforms, which will at peak operation will be used by up to 17 high speed trains per hour serving destinations in the Midlands and the North. There will be 50,000 high speed train seats over the three hour morning peak.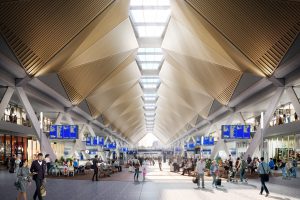 The ground-level concourse will be 300m long and will allow free movement for both passengers and visitors through the station and will open out onto new public spaces at the north and south. The station hall – 20% larger than Trafalgar Square – will become the largest station concourse in the UK.  Retail and station facilities will be available on the ground and first floor, underneath the dramatic top-lit station roof.
Located between Cobourg Street to the west and the existing Euston Station to the east, there will be entrances to the north, south and west of the station. There will be internal entrances to the Network Rail Station and London Underground Station.