HSRIL recently organised an event in Manchester to start a dialogue with the business community around the potential benefits that high speed rail could bring to the north-west economy.
This was an excellent and thought-provoking event… from my point of view, with an interest predominantly in rolling stock, it seemed a long way off; but hearing the views of the civil engineers has given me a different perspective. As for the skills gap, this is a massive challenge. I resolved to do my bit by taking some of our apprentices and recent graduates – our "recruitment ambassadors" – to local schools to promote the benefits of a career in the rail industry, whether on the shop floor, as a commercial trainee or as a qualified engineer.
– Chris Fawdry, Managing Director, Lucchini Unipart Rail Ltd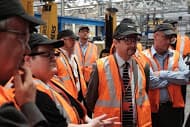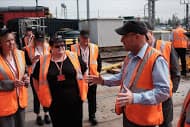 The event was the first in a series of local supply chain events taking place at HSRIL member industrial sites designed to consider how high speed rail in the UK has the capability of transforming business, and in particular businesses outside the obvious rail supply chain. Hosted by Alstom Transport at their Traincare Centre in Manchester, and supported by Costain, Siemens and Laing O'Rourke, a range of local companies were invited – from the construction, engineering and manufacturing sector to digital and IT, security and landscaping.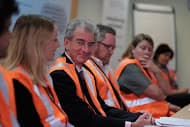 "I found the emphasis on the skills gaps and how we as industry can overcome them to be really positive in its approach. These types of events are all too often used as means for companies to bring their own businesses to the forefront, I found this event to be more about the opportunities for all and how we all can position ourselves to capitalise on them when they arrive." Paul Campbell, Senior Project Manager, TSumnerSmith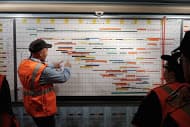 Rob Pugh, Business Development Manager at PP O'Connor described how the retail-led regeneration project Liverpool One has transformed their business, and allowed them to invest in skills and grow their labour force. Rob explained how PP O'Connor's annual turnover grew with Liverpool One by the order of £4.5m which allowed them to invest in plant and training. As their company profile grew they were then engaged on the Metrolink expansion which has resulted in turnover increasing to £27m. PP O'Connor still work regularly with Laing O'Rourke, a relationship which they value greatly.
Key messages from the overall discussions were:
regional businesses can feel that opportunities from the HS2 project are a long way off, but having considered examples like the Crossrail project supply chain map – the whole UK supply chain could and should be involved at a very early stage;
the importance of building and maintaining collaborative contracting relationships;
that high speed technologies utilised around the world are largely based on technologies developed in the UK, and that HSR has the potential to grow the UK export market considerably;
their are real business benefits to building training requirements in to a contract, as part of a collaboration with a tier 1 company, so that everyone is exposed to different (and sometimes better) working practices – so that the project has the potential to lift the bar for everyone;
that apprentices can be drawn in on a range of business areas, such as project management, administrative support and IT, not just the obvious areas.
See also the director at Laing O'Rourke sharing his thoughts on high speed rail