A new bridge – that will carry direct rail services between Oxford and Cambridge – was lifted into position over the route of HS2, the high-speed rail line under construction between London, Birmingham and the North. Engineers working for HS2 used an enormous 600 tonne crane to lift the new bridge into position north of Aylesbury, Buckinghamshire.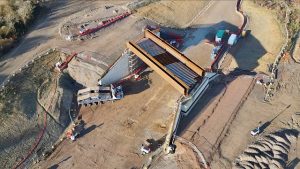 The bridge deck – which weighs the same as 25 double decker buses – will carry East West Rail services linking Oxford, Bicester, Bedford and Cambridge, largely along a route that was closed in the 1960s. Earthworks and bridges on this short section, where the two projects cross, is being built by HS2 contractors to improve efficiency and reduce the overall disruption to local residents.
Welcoming the milestone, Beth West, EWR co CEO said:
"Local communities are now one step closer to enjoying the benefits of a new faster, more sustainable and affordable way to travel between all the communities from Oxford to Cambridge – and on across the country. East West Rail will connect thousands of people to jobs, families and friends with a reliable and safe service. The bridge installation over the Calvert cutting is a really important milestone in bringing EWR to life.
"The Government recently recommitted to East West Rail and construction of the stretch of railway between Bicester and Bletchley is being delivered as planned – both on time and on budget with passenger services between Oxford and Bletchley set to be operational from 2025."