As part of our ongoing support for the National College for High Speed Rail, Siemens recently offered students the opportunity to visit both their National Training Academy for Rail and Kingsheath Traincare Facility.
Students were able to see the two generations of EMU Rolling Stock on site (Class 319 and Class 350), appreciate first hand the depot operations and team structure with a tour of depot facilities and stores and hear about work planning, management controls and Siemens continuous improvement programme.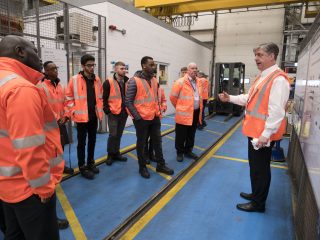 The visitors were also given an overview of Rolling Stock systems – and looked specifically at Bogies and traction and the importance of passenger comfort and safety systems.
One of our key aims is to make the case for the rail and infrastructure sector as high quality places to work; we do this by promoting best practice on employment, sustainability, well-being and diversity. These site visits are part of this work, and the ongoing and supportive relationship that we have with the National College for High Speed Rail.