We spoke to Selina Hearne, an Apprentice Communications Engineer working for Telent in Birmingham.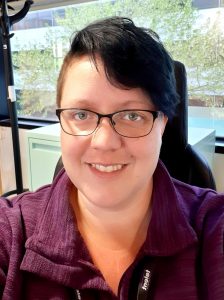 Can you describe your role in a few words?
I work on the upgrade, development, installation and maintenance of various forms of communication, information, infrastructure and safety systems within the rail industry.
What were you doing prior to your apprenticeship?
I was an Operations Assistant (inspector) for a leading public transport provider working withing the West Midlands and Worcestershire.
What was your perception of the construction sector before you started your apprenticeship? 
I thought that it would be quite varied, and that it was a complex industry, and that it would be hard work!
What interested you in joining Telent?
I was attracted to the variety of different sectors within the company and their willingness to take on someone of my age to completely retrain.
What are the top 3 things you've learnt so far in your role?
So far, the college course has been very informative, learning new skills that I have wanted to learn since I was a teenager, but not having the opportunity to do so. Also having time with existing engineers being taught the processes they go through when installing kit trackside. And generally learning – the variety of opportunities that will be available to me within the company once I have qualified is really exciting; I love learning new skills and processes, and developing my skillset.
What would you like to do after completing your apprenticeship?
To be honest I don't know I have not been with the company long and with the current global situation my view of the different departments has been very limited for safety reasons.  But I am excited by the possibilities.