Hi, my name is Paddy Tranter, and I am a trainee civil engineer at Eiffage Kier (EK) working on the central sections of phase 1 of HS2. I am 39 years old, so have not come straight out of an educational background.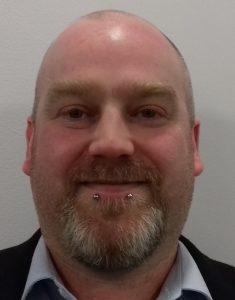 In fact, I previously studied in Archaeology and Cultural Heritage Management and I worked for the National Trust for 14 years, looking after historic interiors and collections from 16th Century tapestries to steam engines. I was ready to try something completely different, but found it was difficult to move into a new career field, without retraining. I didn't want to (and couldn't afford to) stop working and go to college to retrain, so an apprenticeship seemed the ideal way to migrate across into a different area of work whilst still earning.
After a number of interviews, I took up a position with EK, as through the interview and onboarding process it always felt like a good fit. I started with a group of 10 other apprentices, so it was a great way to join a company in a group and we still area a close-knit group. Within the group we are all working in different departments and are studying towards different qualifications. Most of us are now studying part time for our degree in civil engineering and project management. We go away for a week block to Uni, and then complete online modules and coursework. As we work in an environment with lots of experienced engineers, there is always support available to help on any topics where we need a bit of guidance.
I have worked through several different teams within EK, and this has given me a great insight into the project. I am currently working in the Interfaces Team, co-ordinating Undertakings and Assurances. This is to make sure that the thousands of people employed on the sections we are working on, will be aware of all the agreements in place with landowners, charities and local government in the area they are working. We have agreements, systems and processes in place to ensure that we are the best neighbours we can be to those close to our area of work.
Working on this project so far has given me experience in using new computer systems, developing my knowledge of GIS capabilities, and helping to develop a bespoke system to be used by contractors.
I still have a passion for heritage and archaeology, and as such I keep up to date with our environmental team and input into heritage related work.
What is clear, is that the scale of the HS2 project means that when I qualify, I will have a huge choice of roles to choose from, and the support to develop the new skills necessary to fulfil those roles.
Although COVID 19 may have changed the way I am working, it hasn't meant that work has stopped. We are as busy as ever, making sure everything that can still be kept going is. The systems we have in place, and great learning modules provided by out IT team have meant hat we are all still in touch, working together to make sure we are ready to proceed.