We spoke to Cian Murphy, Apprentice Quantity Surveyor with AECOM
Can you describe your role in a few words?
As an Apprentice my role is to go round members of the team and try to develop my knowledge to develop my skills in the industry.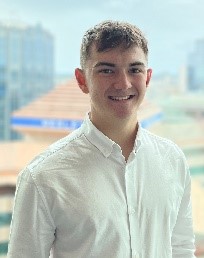 What were you doing prior to your Apprenticeship?
Full time Education – I was doing 3 A-levels and 1 AS level. My three A-levels were in Business, Economics and Mathematics and in my final year of study I opted to do a further qualification in Finance. This was to give me the best possible opportunity going forward. I have always picked subjects that I enjoyed without having a specific career in mind, then when I started looking into what career I wanted to pursue and came across Quantity Surveying. Having an interest in finance (but not wanting to go down the financial industry route), mixed with my new appreciation for the construction industry meant that I found what I wanted to do.
What was your perception of the sector before you started your apprenticeship?
I think it's vital that the construction industry is constantly looking ahead and at what is next. However, this cannot be at detriment to people or business in the current time. This has been reinforced since joining the industry, and I can see how much work goes into mitigating the impact of a project.
What interested you in joining your company?
The scale of the business and the growth opportunity within the company is what attracted me to AECOM. I have wanted to travel and work abroad ever since I knew that was possible, I want to work with as many people as I can and take part in many cultures- one thing that I would be keen to see is how teams communicate in other parts of the world to get jobs done.
What are the key things you've learnt so far in your job?
To make sure that you have thought about all possible avenues before asking for help. Don't be scared to ask for help for even the smallest questions and have a go at things.
What is the most exciting part of your role?
I really enjoy being on site. I really want to develop my learning in construction tech as I feel this will help me drastically in the future.
What would you like to do after completing your apprenticeship?
After I have finished my apprenticeship in 5 years I would like to become a member of the Royal Institute of Chartered Surveyors (RICS) which is the world's leading professional body for qualifications and standards in land, property, infrastructure and construction. After completing this I would then like to be able to travel around the world and work on international projects.