We spoke to Bethany Williamson, a civil engineering apprentice from our High Speed Rail Apprentice Network, based in Birmingham, and working for Balfour Beatty Vinci.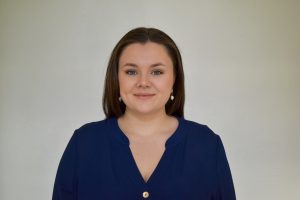 Can you describe your role in a few words?
I work with the design team here – engaging with key stakeholders to ensure that the designs being produced are best that they can be for the HS2 project.
What were you doing prior to your apprenticeship?
 I did A-Levels and then took a year out and worked in a pub whilst searching for an apprenticeship.
What was your perception of the construction sector before you started your apprenticeship?
I thought the sector provided great career prospects and secure work. The industry is moving towards a more inclusive environment, and is evolving using new 'greener' technologies, which I find very exciting.
What made you apply to BBV specifically?  
I thought that they are a big name in the industry with many types of projects available to work on, including HS2, which will present lots of interesting opportunities.
What are the top three things you've learnt so far in your job?
I have learnt the importance of networking, time management, and of course lots of new knowledge about civil engineering!
And what is the most exciting part of your job would you say?
Seeing the design develop and how the problems presented are solved in the design process.
What would you like to do after completing your apprenticeship?
At the moment I am unsure as I haven't completed a rotation between departments yet, but I would love to stay in the HS2 project for phase 2.