HS2 has received the go-ahead from Birmingham City Council to begin the refurbishment of the Old Curzon Street Station. The Grade I listed Principal Building has been integrated into HS2's plans for the new Curzon Street Station, reflecting the history of the old station as well as the Grade II listed Woodman pub.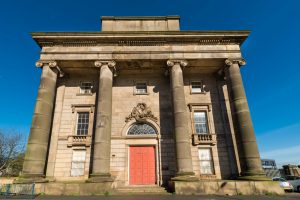 The public space surrounding the station will feature the historic track alignments of the former goods yard that used to lie to its east, and the gardens and new eastern concourse façade have also been designed to complement the architecture of the building, which was designed by architect Philip Hardwick and opened in 1838, and is now one of the world's oldest surviving pieces of monumental railway architecture. It was intended to be the boardroom and general offices of the London and Birmingham Railway but was extended to incorporate a hotel by 1841, then turned into a goods station for freight traffic between 1854 and 1860 and subsequently closed on 31 December 1965.
Having suffered extensive damage during the Birmingham Blitz, and surviving two applications for its demolition in the 1970s, it is now listed on the 'Heritage at Risk Register' maintained by Historic England. The refurbishment will see this status change for the first time in over a decade, with future plans to use it as an HS2 visitor centre, with flexible facilities for office space, exhibition purposes and catering.