As the largest infrastructure project in Europe, HS2 is already creating huge demand for construction equipment, which is supporting UK manufacturers and suppliers. Reducing emissions from plant on construction sites is a key challenge for the sector. A six-month pilot has been carried out by UK company Eminox on a Balfour Beatty Stage IIIA piling rig (Junttan PM20) which involved retrofitting exhaust technology to existing engine systems on plant machinery to upgrade them to the latest EU Stage V engine class.
It was tested by Imperial College London (Centre for Low Emission Construction) and Emissions Analytics, and has been validated by the Energy Savings Trust, providing certainty for the sector and making it available industry-wide.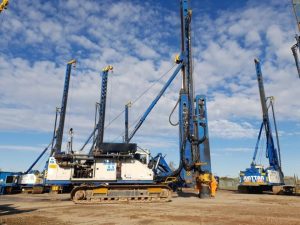 HS2 has set strict (NRMM) emissions requirements, with all plant operating needing to meet at least EU Stage IV requirements from 2022. This innovation will deliver the first EU Stage V equivalent retrofit solution in Europe – taking the piling rig to the lowest emissions level possible.
This gives HS2 and its suppliers confidence that existing NRMM can be successfully retrofitted to meet HS2's 2022 NRMM criteria at substantially less cost than purchasing new equipment.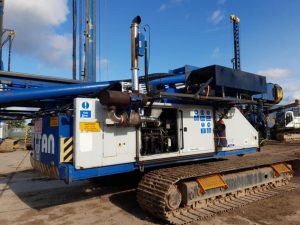 Unlike on-road exhaust emissions reduction retrofit technologies, which typically use compressed air from the existing system the new technology removes particulates, hydrocarbons, carbon monoxide and nitrous oxide emissions using new airless dosing technology. This is the first of its kind and the innovative technology will also benefit users of NRMM working in other clean air zones such as Greater London and Birmingham.
A second pilot is currently underway on the larger Bauer BG30 403kW rig, to test whether larger machines within the 350kW to 550kW range can also be retrofitted, providing even more benefits to the sector.