HS2 is being designed to respect the natural environment by conserving, replacing and enhancing wildlife habitats with a new 'green corridor' along the route, creating a network of larger, better-connected, climate resilient habitats and new green spaces for people and wildlife. The HS2 Woodland Fund on Phase One provides funding to restore and maintain PAWS sites, including restocking with native trees and shrubs, and associated items including fencing, gates and natural flood management items. It also provides funding for creating, protecting and maintaining new native woodland through the England Woodland Creation Offer. Administered by the Forestry Commission – it is part of a suite of initiatives to support woodland creation and tree planting across England.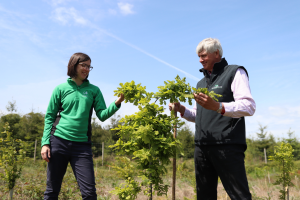 To date, a total of £1.75 million has been allocated across 35 schemes. This has resulted in the restoration of over 66 hectares of ancient woodland, including the planting of over 110,000 trees; and over 130 hectares of new native woodland, with around 220,000 trees planted.
The fund provides support for landowners in the area 25 miles around the Phase One route. This goes beyond HS2's existing environmental programme to plant 7 million trees and create over 33 square kilometres of wildlife habitat.
West Wycombe Estate in Buckinghamshire is one of the projects which has received funding to restore one of their ancient woodland sites and is now seeing the benefits. Over 15,000 native trees were planted on a site that is very well used by the public, which was previously planted with non-native Japanese Larch that had suffered from damage by squirrels.