HS2 designers have more than halved the amount of embedded carbon in Wendover Dean Viaduct in Buckinghamshire using an innovative 'double composite' approach – which involves two steel girders sandwiched between two layers of reinforced concrete to create a super strong but light weight span. The 450m viaduct was recently given approval by Buckinghamshire Council under Schedule 17 of the HS2 Act and it will be the first major railway viaduct in the UK to use the 'double composite' approach.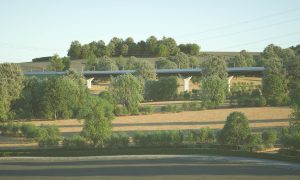 Designed by HS2 Ltd's main works contractor, EKFB – a team made up of Eiffage, Kier, Ferrovial and BAM Nuttall – working with their design partner, ASC (a joint venture between Arcadis Setec and COWI) and specialist architects Moxon, the viaduct is one of 50 being built on the first phase of HS2 between London and the West Midlands.
Applying lessons from the use of double composite structures on the latest French TGV lines, the British team has cut the amount of embedded carbon in the viaduct by 7,433 tonnes – the equivalent of 20,500 return flights from London to Edinburgh.
As well as cutting the amount of concrete and steel – one of the major sources of CO2 – the slender design also reduces the silhouette of the structure viewed from across the valley. Nine evenly spaced piers will support the deck of the viaduct and will be placed to carefully reflect the near symmetry of the ground beneath.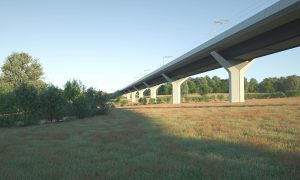 In a further improvement to the original design, the piers – some of which will be up to 14 metres high – will be cast in pieces offsite before being assembled like giant lego blocks. This approach will reduce the amount of work on site and cut disruption for local residents.