We spoke to Jack Bates, an Apprentice Technician with Hitachi Rail
Can you describe your role in a few words?
To maintain a fleet of the new class 800 trains running on the East Coast Mainline
What were you doing prior to your Apprenticeship?
I was doing a Business Degree, followed by a sales role where I was promoted to sales team leader.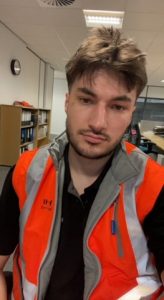 What was your perception of the sector before you started your apprenticeship?
I thought that there would be plenty of opportunities in various roles which would allow me to develop a career, I thought that the industry would be supportive and provide me with chances to develop a completely new set of skills.
What interested you in joining Hitachi Rail?
I just felt that a company like Hitachi Rail would give me the potential for a varied and prosperous career, as they are a large and well known company.
What are the key things you've learnt so far in your job?
I've learnt a great deal about the maintenance needed to keep operations running smoothly, what is required to make trains function and how they co-operate with one another, and how to operate the appropriate tools and components to bring all of this together.
What is the most exciting part of your role?
Really the prospect of learning new skills that will provide me with a trade for life. And blowing the train horn of course!
Have you worked on the HS2 project through your apprenticeship?
I haven't but I think it will be possible in the future, I am very hopeful anyway!
What would you like to do after completing your apprenticeship?
My aim is to continue to develop my skills and competence in my role and eventually move into roles where I can aid the company – perhaps using my commercial background combined with experience as a technician would be beneficial in some scenarios.