HS2 Ltd has revealed the first images of its planned Oxford Canal Viaduct and is seeking views from the local community about the design of the viaduct between Banbury and Daventry. This is one of 15 viaducts and bridges across the central section of the HS2 route, designed by our members EKFB, working with architects Moxon and design partners ASC.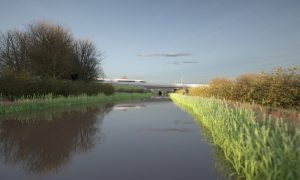 The design combines a simple overall form with a special focus on materials for the parts of the structure that are close to the canal and its visitors.
The viaduct has been designed to be as open as possible to improve the environment for boaters and walkers, allowing views across the landscape and the horizon, with rough-cut masonry features where it faces onto the canal and towpath giving a sense of design continuity and as a nod to architectural heritage of the canal.