HS2 has revealed images of a big construction milestone in Birmingham city centre, with the completion of the first giant V-shaped pier for the 300 metres long viaduct that will bring high speed trains into the new Curzon Street Station.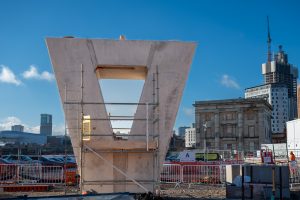 The five-metre-tall structure is the first pier to be installed for the 'Curzon No. 3 Viaduct', which will be the final approach to HS2's new seven platform station in the city centre. In total, 30 piers will be installed for this viaduct, with heights varying between five and six metres above ground level. This includes four steel tripod piers erected to span over the Digbeth Branch Canal.
To cut carbon, a steel industry by-product – ground granulated blast-furnace slag (GGBS) has been incorporated into the pier's manufacturing as an eco-friendly concrete alternative to a traditional concrete mix. Also known as slag sand, GGBS will reduce the embedded carbon of the piers by more than 60%, while ensuring the structure will remain operational for over 120 years.